August 11th, 2022 | by Kara Casey | Posted in Syler Construction Homes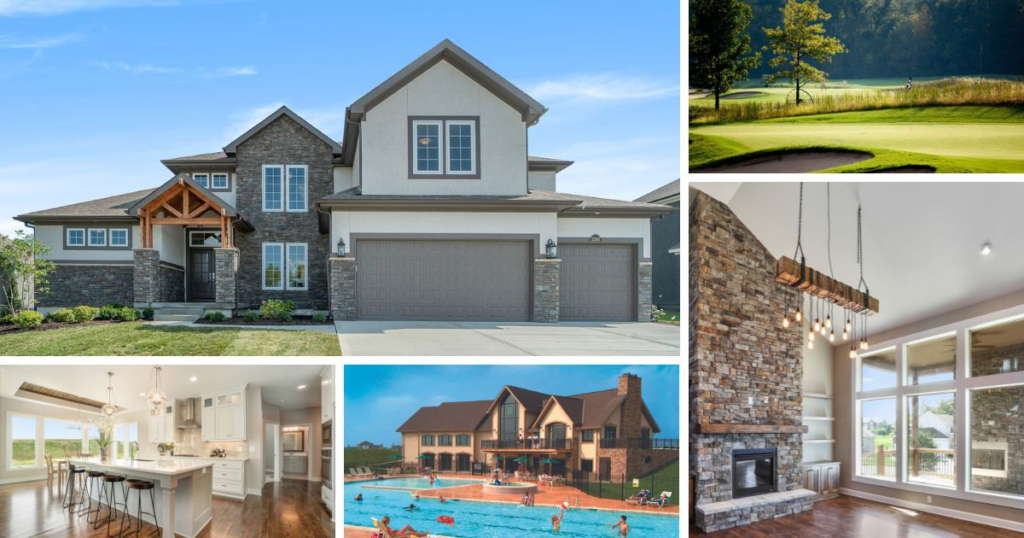 At Syler Construction, there's nothing we value more than building phenomenal homes in remarkable communities throughout the Kansas City area—and our breathtaking homes in the incredible Staley Farms truly embody all of our best qualities and craftsmanship as an entire company. From the fantastic amenities to the flawless floor plans and everything in between, we wanted to take a moment to outline some of our favorite features about the location, homes and community as a whole—so read on to find out why Staley Farms is undoubtedly one of the best places to find your dream home in the metropolitan area.
A prime location
Strategically placed in the heart of Kansas City North, living in Staley Farms provides residents with a vibrant, tight-knit community accompanied by limitless attractions, conveniences and amenities to enjoy nearby. Whether you're looking for an easy commute to the lively downtown streets or an unbeatable small-town atmosphere, living in this coveted part of Kansas City allows for the perfect balance of city and suburban lifestyles—giving you the best of both worlds.
Families who call Kansas City North home receive the utmost experience no matter the age, as both the school district and job opportunities are unmatched. North Kansas City School District is one of the highest-rated school districts in the entire city—with 1:1 technology initiatives, low student-to-teacher ratios, a graduation rate well above the state average and the only International Baccalaureate Diploma program in the Northland. Additionally, establishing a professional career is no problem in this area, with both Downtown KC and KC North providing thousands of well-established jobs to residents on a regular basis—from tech to health to finance and everything in between. Whether you're looking for a great place to raise your family or the ideal place to retire—or both—Staley Farms is the perfect community for you.
As far as entertainment goes, the options are nearly endless when living in this Northland neighborhood. Worlds of Fun and Oceans of Fun, T-Shotz and Chicken n Pickle name just a few local attractions that serve as great options for entertainment—and you'll never have to search too long for something to eat, with the locally-owned Captain's Sports Lounge, Hot Rocks Pizza Kitchen and an array of other phenomenal restaurants located nearby. Additionally, there are ample opportunities to take in the natural beauty that surrounds this area, including the paved trails and rolling hills at Anne Garney Park, and the Martha Lafite Thompson Nature Sanctuary—which offers a peaceful retreat for residents with stunning greenery, serene walking trails, an educational nature center and plenty of gorgeous views to enjoy with the entire family.
An unbeatable community
In this community, you'll have a deep sense of unity and neighborhood pride with superb amenities, including the massive resort-style pool and hot tub, the exclusive playgrounds and the state-of-the-art clubhouse with Kansas City's only indoor community court and staffed fitness classes—and, at the heart of the inspiration for this community, you'll find the elite golf course. Staley Farms certainly takes the country club lifestyle to the next level with its beautiful, championship-style 18-hole golf course, where residents can browse through the rolling green hills while hitting a hole-in-one, stop into the golf shop for pro tips by our knowledgeable staff or head to the rustic clubhouse for a fantastic post-golf meal. The eye-catching homes graciously sit along this elegant golf course—effortlessly creating an unprecedented look and peaceful environment. With one-of-a-kind homes and unparalleled amenities throughout this tight-knit community, there aren't many other neighborhoods that embrace togetherness, tranquility and luxury like Staley Farms does—and you won't want to miss out on this sensational opportunity.
The homes in Staley Farms are built with our distinctive quality, and our thoughtful designs seamlessly blend traditional elements with the highly sought-after sophistication of modern and contemporary homes. Our amazing floor plans offer ideal single-family homes that sit on spacious homesites with an included three-car garage per plan, as well as sought-after features, finishes and designs—such as finished walkout basements, gourmet kitchens, sizable master's suites and extraordinary, open-concept layouts. Syler Construction has carefully crafted each home throughout Staley Farms to match the luxurious atmosphere, and our current available homes are full of high-end features and forward-thinking elements that you can't find elsewhere. Ranging in size from 4 to 5 bedrooms, 3.5 to 4.5 bathrooms and 3,226 to 4.080 square feet—the homes available now in Staley Farms make for the perfect opportunity for you to find your dream home in a community that exceeds all of your expectations. There's no better builder to create the home you've always envisioned, and there's no better community to live, thrive and grow in for years to come.
Make the move today
Our team at Syler Construction is proud to offer such astounding homes in a remarkable community like Staley Farms, and we're beyond excited to continue this journey with all of our future homeowners. With extensive experience in building captivating homes in exceptional communities throughout some of the best areas in Kansas City, Syler Construction is the builder you can trust—and now is the perfect time to make the move and start the exciting new chapter to your dream home.
To learn more about Staley Farms or any of our other sought-after communities, or to schedule a tour of our available homes, don't hesitate to give us a call today at 816-650-5519 or contact us online at any time.