April 18th, 2023 | by ewildenhaus | Posted in Syler Construction Homes | #available home, #eagle pointe, #Ease Pointe Preserve at Shoal Creek, #Floor Plan, #Kansas City Parade of Homes, #new construction home, #palisades, #Parade of Homes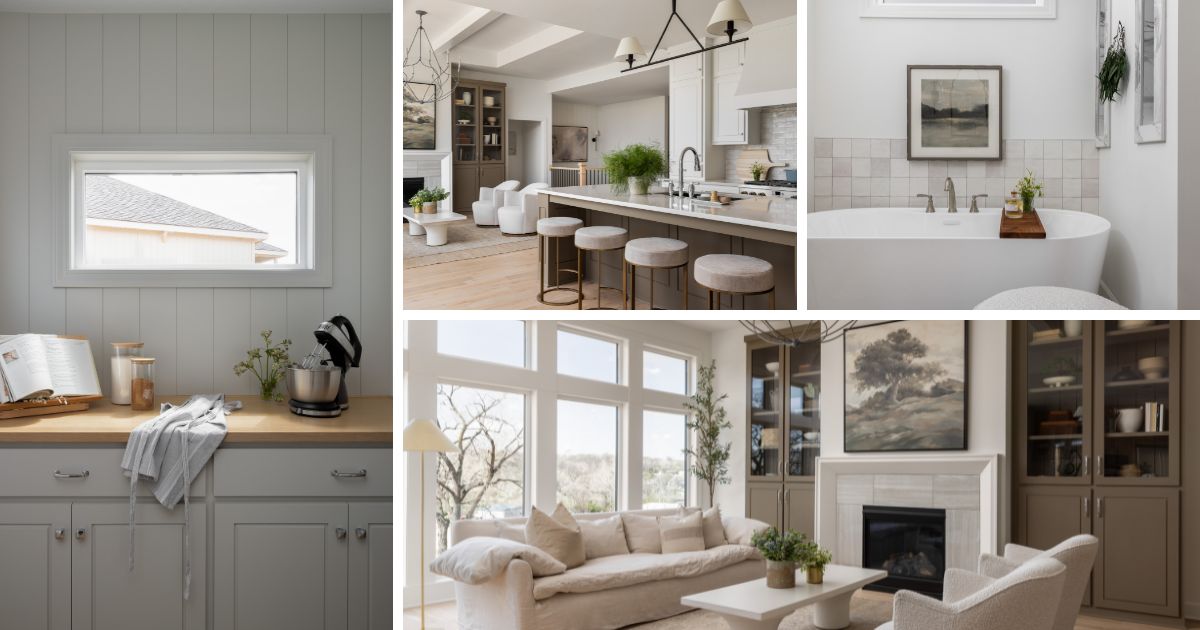 As spring unfolds, the Kansas City metro area comes alive with the vibrant colors of blooming flowers, increased temperatures and an exciting event—the Parade of Homes. A biannual tradition hosted by the Home Builders Association of Greater Kansas City, the Parade of Homes invites visitors to explore the latest styles, trends and innovations in homebuilding across the city—and our team at Syler Construction is thrilled to be showcasing two of our exceptional homes as part of this year's festivities. Read below to find out more about this year's Spring Parade of Homes and what to expect from Syler Construction.
About the event
The Parade of Homes is an extraordinary event that celebrates the creativity and craftsmanship of local builders throughout Kansas City. Hosted twice a year (once in the spring and again in the fall) by the Home Builders Association of Greater Kansas City, the Parade of Homes invites visitors to explore some of the most remarkable homes and sought-after communities from notable builders throughout the city. During the Parade of Homes, builders open up their models or available homes for the public to tour, providing a special glimpse into the newest interior design trends and groundbreaking approaches in homebuilding.
This year's Spring Parade of Homes will take place from April 29 to May 14, featuring 117 builders and 340 homes throughout 8 counties—and Syler Construction is proud to be one of these builders and showcasing two of our homes. The participating homes are free admission and will be open from 11am-6pm daily, offering visitors fantastic opportunities to explore and discover the latest and greatest in home design. Click here to view a map of all of the participating homes throughout the metro area, and be sure to pick up your free Parade guide at the KCHBA (I-435 & Holmes) on Monday, April 24 or at any participating home during the event.
Our featured homes
Our team at Syler Construction is beyond excited to open up two of our soon-to-be model homes in this season's Parade of Homes. From the top-quality craftsmanship to the beautifully-decorated interiors—you'll want to stop at both of these phenomenal homes to immerse yourself in the impeccable designs and imagine what life could be like in your very own Syler home.
Coming in at stop number 16 on the Parade of Homes tour, 8524 N Booth Avenue is a home in the trim stage that you won't want to miss. Boasting 4 bedrooms, 3.5 bathrooms and 3,676 square feet of open space and functionality, this home attributes its exquisite style and spacious layout to the sought-after Avail floor plan. Be sure to check out the chef-inspired kitchen, the breathtaking deck and a master bathroom like you've never seen before. Located in the Eagle Pointe Preserve at Shoal Creek community near Liberty, this home is sure to exceed your expectations during the Spring Parade of Homes.
Next, at stop 54, 2571 NW Riverview Dr is one you won't want to skip out on during the Parade of Homes tour—with 4 bedrooms, 3.5 bathrooms and an overall sensational layout from the Ridgedale plan that is decorated in a modern, effortless way from top to bottom. Whether the large windows and stunning natural lighting catch your eye the most, or if it's the spacious, sophisticated style of each room throughout the home—there's no doubt that touring this gorgeous home in The Palisades community in Riverside will spark your imagination and creativity when it comes to your dream home design.
Experience the Syler difference
If one thing's for certain, it's that Syler Construction has an array of options when it comes to carefully-crafted homes in desirable communities throughout Kansas City—even beyond what you can find at the Parade of Homes. While you're touring the stunning homes mentioned above, don't hesitate to contact us at any time to schedule a showing of any of our other high-quality, beautiful homes in incredible communities throughout Kearney, Kansas City, Riverside and Parkville. From flawless floor plans to the finest features and everything in between, new homes from Syler Construction are truly one-of-a-kind—and the Parade of Homes provides just a glimpse of what we have to offer for all of our homeowners.
For more information about Syler Construction, The Parade of Homes or for any inquiries about our custom homes and commercial projects we build throughout Kansas City, feel free to give us a call at (816) 650-5519 or fill out our online form today.