December 6th, 2022 | by Kara Casey | Posted in Syler Construction Homes, Syler Construction News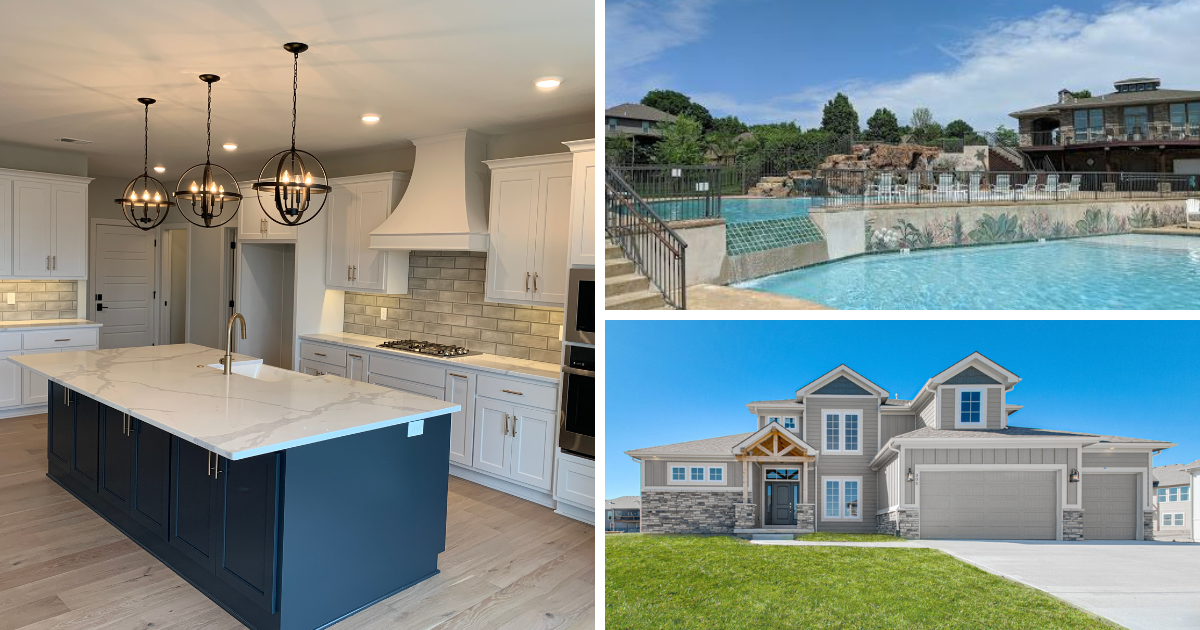 If you're looking for a serene, amenity-filled community with a prime location and a sought-after lifestyle for all types of families—look no further than Thousand Oaks in Parkville, MO. At Syler Construction, we understand that the community you reside in is just as important as the home itself, which is exactly why we're beyond proud to build in this one-of-a-kind community. Read below to find out more about Thousand Oaks and everything it has to offer.
An unparalleled community
Tucked within the high bluffs near the Missouri River in Southern Platte County, Thousand Oaks effortlessly creates a beautiful, close-knit community built in harmony with nature. Dozens of spectacular homes with spacious yards line the streets, accompanied by friendly neighbors, unbeatable amenities and designated spaces to enjoy the outdoors. Acres of beautiful green spaces, peaceful trails, calming lakes and fascinating nature reserves can all be found within this phenomenal community—as well as two resort-style pools, a luxurious cabana, a stately clubhouse, incredible tennis courts and kid-friendly parks and playgrounds. The community hosts frequent events and gatherings and even has its own swim team for kids of all ages to hone their skills, display their abilities and compete in a team environment throughout the summer. Whether you're someone who enjoys socializing with the neighborhood, or someone who loves an escape to nature—Thousand Oaks provides the best of both worlds, right outside your front door.
To elevate this community even further, Syler Construction offers astounding new-construction homes for families of all shapes and sizes to find the home of their dreams. Whether our stunning ranch-style Charleston plan best aligns with your lifestyle, or if our gorgeous Wellington layout speaks to you the most—homes from Syler Construction effortlessly fit in with this community's elegance and charm. A thoughtfully-designed Syler home in the sought-after community of Thousand Oaks offers a true sense of belonging and a lifestyle that can't be compared.
Living in Parkville
Ranked as the best place to live in Platte County, Parkville is a quiet suburb in the Northland area of Kansas City with endless things to love. Residents enjoy easy access to I-435 and the short commute to Downtown KC while appreciating the charming character and individuality that Parkville exudes. The town boasts a unique mix of incredible sit-down restaurants and bars, breathtaking parks and trails and a historic downtown with quaint shops and boutiques. The city is home to the well-known Park University, and the public education system has been widely recognized for its academic success and athletics program. Students in Thousand Oaks attend Union Chapel Elementary, Walden Middle School and Park Hill South High School within Park Hill School District—each with astounding student-teacher ratios, cutting-edge teaching methods and an array of extracurricular activities to set students up for success. Parkville undoubtedly has something for people of all ages to appreciate—and Thousand Oaks makes for the perfect addition to this amazing city.
Start living your dream life
At Syler Construction, we're here to help you start living your dream life, and there's no better place to find the Syler home you've always envisioned than Thousands Oaks. Welcoming neighbors, a serene environment, beautiful homes, top-tier amenities, highly-rated schools and an array of nearby attractions come together to create a way of life that is beyond compare—and it could all soon be yours. Syler Construction currently has three carefully-crafted homes for sale in Thousand Oaks, so be sure to give us a call at 816-650-5519 or contact us online to learn more and start your journey today!