October 24th, 2023 | by ewildenhaus | Posted in Syler Construction Homes, Syler Construction News | #available home, #new construction home, #thousand oaks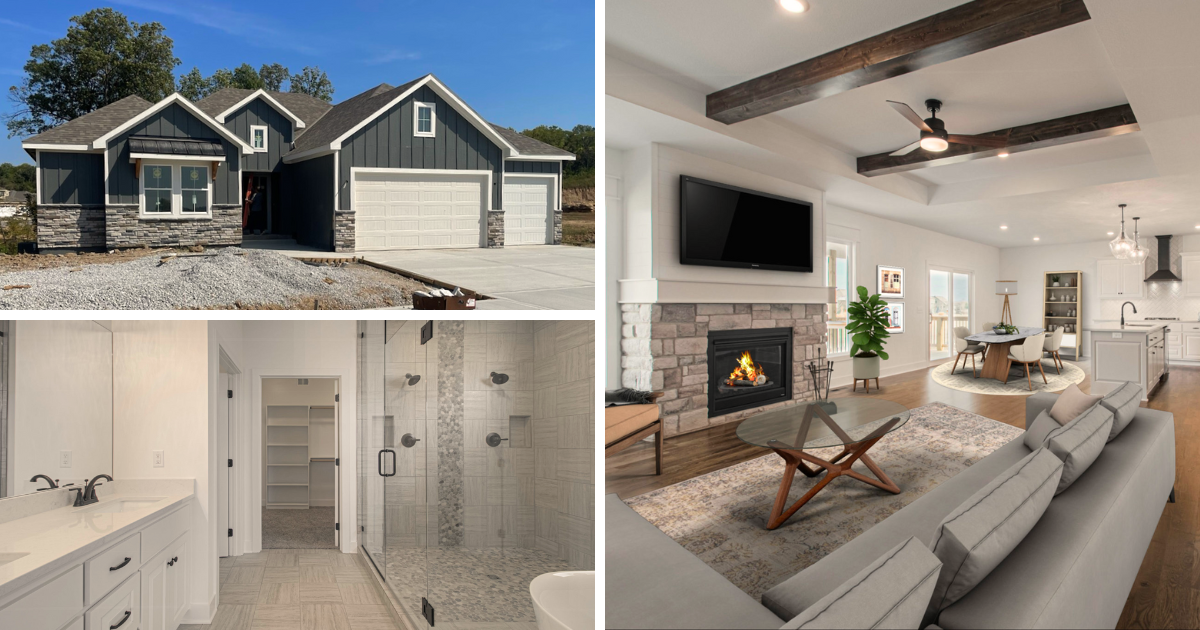 On your new home journey, there are a number of factors to consider when deciding on the perfect community to plant your roots. From the area to the home designs to the amenities, it's crucial to find the right neighborhood for you and your family to call home for years to come—and our team at Syler Construction understands this deeply. With our new homes in Kansas City, we carefully select the best areas and communities to build in to guarantee a phenomenal lifestyle for all of our homeowners, and this is certainly evident with our new homes in Thousand Oaks.
A community that has it all
Nestled in scenic Parkville, MO, within the high bluffs near the Missouri River in Southern Platte County, our new homes in Thousand Oaks effortlessly create a beautiful, close-knit community built in harmony with nature. Dozens of spectacular homes with spacious yards line the streets, accompanied by friendly neighbors, unbeatable amenities and designated spaces to enjoy the outdoors. Acres of beautiful green spaces, peaceful trails and fascinating nature reserves can all be found within this desirable community—as well as two resort-style pools, a luxurious cabana, a stately clubhouse, incredible tennis courts and kid-friendly parks and playgrounds. The community hosts frequent events and gatherings and even has its own swim team for kids of all ages to hone their skills, display their abilities and compete in a team environment throughout the summer. Whether you're someone who enjoys socializing with the neighborhood, or someone who loves an escape to nature—Thousand Oaks provides the best of both worlds, right outside your front door.
And that's not all—Thousand Oaks is also proudly located within the esteemed Park Hill School District, ensuring that your children receive a top-notch education right within the community. Additionally, for professionals and city enthusiasts, the convenience of an easy commute to downtown Kansas City makes Thousand Oaks an ideal choice. With our new homes in Parkville at Thousand Oaks, homeowners can start their days with the serenity of nature and come home to a vibrant community—all while having easy access to the bustling heart of Kansas City.
Gorgeous Syler homes available now
Syler Construction is beyond proud to build our beautifully crafted new homes in Parkville at Thousands Oaks—and there's never been a better opportunity to find your dream new home in this remarkable community. These exceptional homes under construction in Thousand Oaks embody luxury, comfort and style—perfectly blending with the appeal of this community. All three homes are located in a charming cul-de-sac in Thousand Oaks and are either on a wooded lot or semi-private lot—providing ultimate tranquility.
This elegant new home boasts 4 bedrooms, 4 bathrooms, a 3-car garage and 3,142 sq. ft. of thoughtfully designed living space. Built with the stunning Charleston floor plan with high-end finishes and ample natural light, this home offers a perfect blend of functionality and sophistication.
With 4 bedrooms, 3.5 bathrooms, a 3-car garage and 3,234 sq. ft. of living space, this home is a testament to modern living—built with our sought-after Wellington plan. Featuring a gourmet kitchen, spacious bedrooms and a stylish covered deck, it's an ideal sanctuary for families seeking both elegance and practicality.
This meticulously crafted home offers 4 bedrooms, 3.5 bathrooms, a 3-car garage and 3,467 sq. ft. of living space. From the grand entryway to the expansive master suite, every detail exudes sophistication. The open-concept, spacious design of the Richmond with high ceilings and top-notch appliances make this home an epitome of contemporary living.
Discover Thousand Oaks
In Thousand Oaks, with its enchanting natural surroundings and Syler Construction's thoughtfully designed homes, a life of comfort, luxury and community awaits. Whether you seek the serenity of nature, the thrill of community amenities or the joy of residing in a top-quality home—our new homes in Thousand Oaks have it all.
Discover your dream home today with Syler Construction—browse through our new homes in Parkville at Thousand Oaks to find the one for you, and feel free to give us a call at (816) 650-5519 or fill out our online form today for more information.