May 9th, 2022 | by Kara Casey | Posted in Syler Construction Homes, Syler Construction News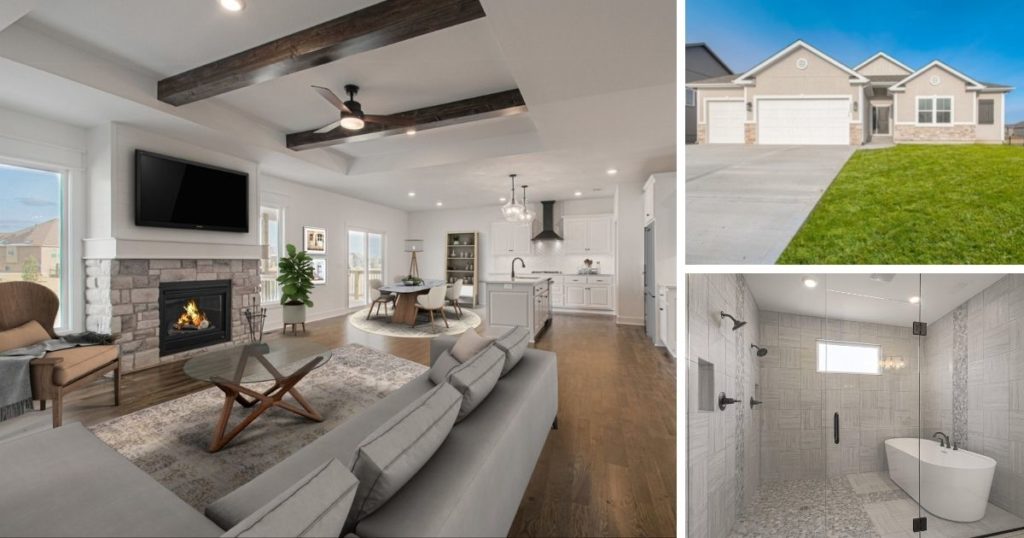 The 2022 Kansas City Spring Parade of Homes is in full swing here at Syler Construction, and we couldn't be more excited to show attendees the latest innovations and forward-thinking practices in our homebuilding process. Whether you're looking to move, are a first time homebuyer or are simply interested in viewing the latest styles and groundbreaking approaches in homebuilding throughout the metro area—the Parade of Homes has something for everyone to enjoy. Continue reading to find out more about this year's Parade of Homes and what to expect from Syler Construction.
Why visit the Parade of Homes?
Attending Kansas City's Parade of Homes provides a special glimpse into some of the most sought-after communities and remarkable homes from notable builders throughout the entire city. The Parade of Homes is hosted twice a year by the Home Builders Association of Greater Kansas City, once in the spring and again in the fall. During the Parade of Homes, builders open up their model or available homes for the public to tour, whether they're in the market for a new home or want to discover the newest interior design trends. The Parade of Homes allows builders throughout Kansas City to make new connections, showcase their revolutionary layouts and designs, and applaud their hardworking team and staff—like that of Syler Construction—for pushing creative boundaries and upholding superior craftsmanship in the local homebuilding industry.
The Parade of Homes is currently underway, and the participating homes are free admission and will be open from 11am-6pm daily until May 8. This season will feature 93 builders and over 240 single-family homes throughout eight counties—and Syler Construction is proud to feature 3 of our carefully-crafted homes to tour as a part of this incredible tradition. You can view the list of homes here, and can find a Parade guide and map at all Parade homes during the dates of the event.
One-of-a-kind featured homes
Our team is thrilled to have three outstanding homes in this season's Parade of Homes, and each of them embody the high-quality craftsmanship and innovative practices that we are constantly committed to at Syler Construction—from extraordinary exteriors and functional layouts to cutting-edge designs and advanced features.
7717 N Wallace Avenue in Kansas City, MO is home number 11 on the Parade of Homes tour, and this home boasts 5 bedrooms, 4 bathrooms and 4,080 square feet of open space and functionality. This home attributes its exquisite style and spacious layout to the Aspen floor plan—containing a chef-inspired kitchen, a 12-foot ceiling in the massive great room, and a master bathroom like you've never seen before. Located in our Davidson Farms community, don't forget to check out the phenomenal design elements and amazing view of the private wooded area when touring this charming home on the Parade of Homes tour.
As stop number 27, 2116 Greenfield Point in Kearney, MO is one you won't want to skip out on during the Parade of Homes tour—with 2 bedrooms, 2 bathrooms and an overall sensational layout that is decorated in a modern, effortlessly beautiful way from top to bottom. Whether the large windows catch your eye the most, or if it's the radiant flooring throughout the great room and kitchen—there's no doubt that touring this gorgeous home in our Villas at Greenfield community will spark your imagination and creativity when it comes to your home design.
Lastly, 2223 Foxtail Drive in Kearney, MO comes in at stop number 28 on the Parade of Homes tour—and some may say that we saved the best for last. This home perfectly combines modern and traditional elements throughout its layout and design, with 3 bedrooms, 3 bathrooms, a 3-car garage and 2,095 square feet. From the captivating exterior to the airy and refreshing interior, this home is sure to be a favorite on the entire Parade of Homes tour. Discover the breathtaking master closet and notice the detailed interior design and more when visiting this magnificent home in our Meadows at Greenfield community.
Syler has even more to show
If one thing's for certain, it's that Syler Construction has an array of options when it comes to gorgeous homes in tight-knit communities throughout Kansas City—even beyond what you can find at the Parade of Homes. While you're touring the stunning homes mentioned above, don't hesitate to contact us at any time to schedule a showing of any of our other high-quality, beautiful homes and our incredible communities throughout Kearney, Kansas City, Richmond, Riverside, Parkville and more. From flawless floor plans to the finest features and everything in between, new homes from Syler Construction are truly one-of-a-kind—and the Parade of Homes provides just a glimpse of what we have to offer for all of our customers. For more information about Syler Construction, The Parade of Homes or for any inquiries about our custom homes and amazing communities, give us a call at 816-650-5519, fill out our online form or send us an email at garret@sylerconstruction.com.